Still Growing!!!
Hello readers! If you're on my mailing list, you've already read this info, plus gotten a special bonus sneak peek at my cover mockup for Depths of Desire! Everyone else, consider joining the mailing list here, and read on for more updates!

This week's updates are pretty big, with a brand new book release, new promos, sneak peek at an upcoming cover idea, and I even made a brand new Tiktok, so be sure to read to the end! And please feel free to drop me a message any time, whether you have something you want to ask, some advice, or if you just wanna talk about my cat-children.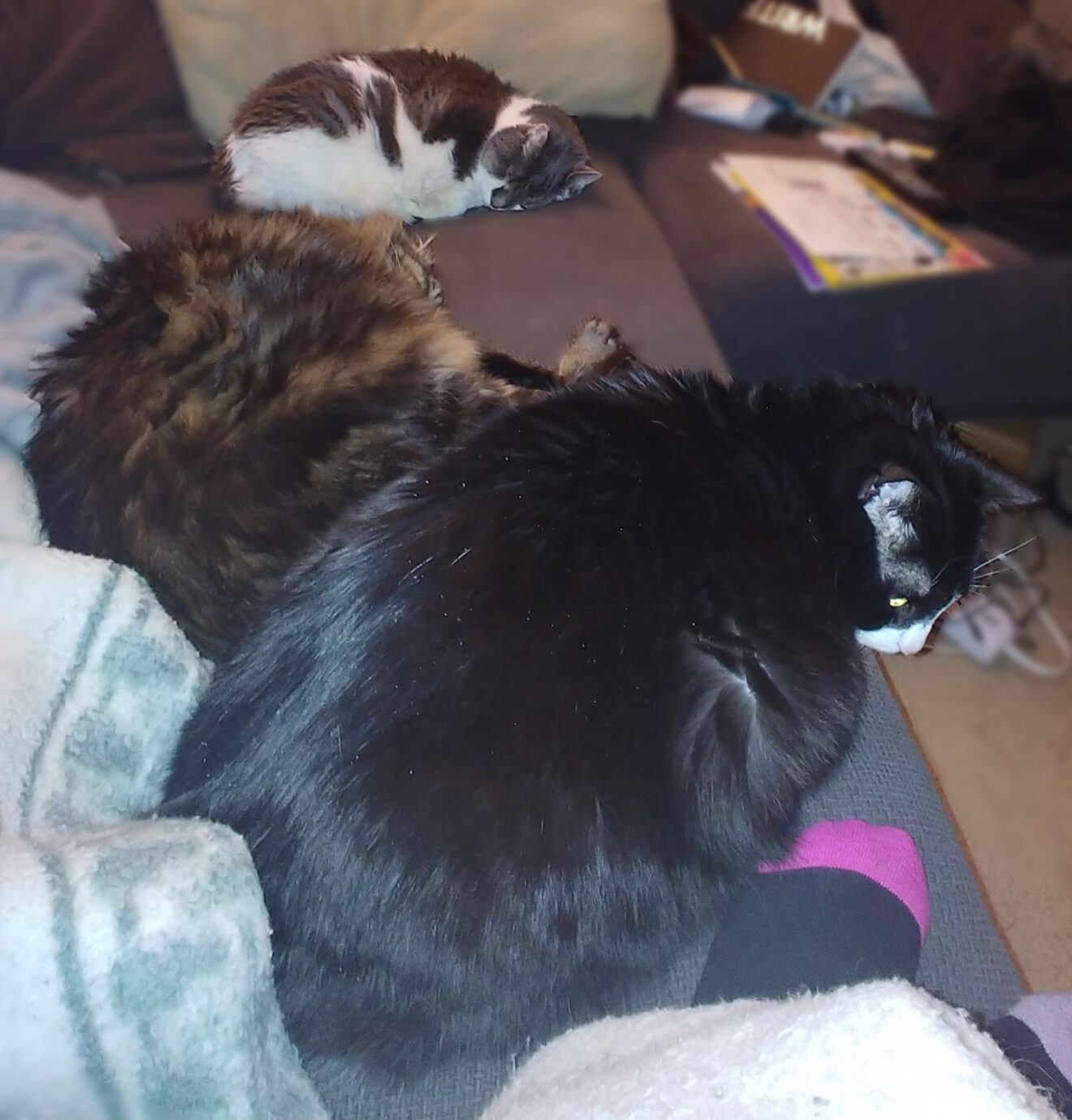 I've been trying to grow more and more, as all indie authors are I'm sure, and one of the better ways to grow is to get more folks to join my mailing list. In order to do that, I purchased a BookFunnel subscription and joined another badass promo for the month of December! I get 'karma points' for every time someone clicks my link to the promo, and higher karma grants me access to more and bigger/better promotions. I'd really appreciate it if you could please click the link below even if they don't sound like your thing, but the one for December is all MM sexy books, so I think you'll find at least something good there. It doesn't start until the 1st, but it runs all month, so check out all the smexiness that the other authors have to offer!

…is finally over! For those of you who don't know, this was my first year trying National Novel Writing Month. If you haven't heard of it, it's basically where people challenge themselves during the month of November to write 50K-100K words in a month. You set your personal goal at the beginning (I chose 50K) and are supposed to write & update your profile with what you've done each day.
I didn't meet my goal, but I still got probably 1/4 of the story for Depths of Desire written, and the majority of the rest of it outlined. It's been a great experience, and I think I'll definitely try again next year, but maybe with a bit more 'prep' in the month of October. You know, as opposed to the none that I did this year.

Depths of Desire
The new story I started for NaNoWriMo is called Depths of Desire. In case you missed the update, it's about an actor named
Percival Warrens, Percy for short, who is filming a movie about mermaids. He is, in fact, the star of the film, and gets to wear a gorgeous custom mermaid tail and everything.
But while they're out at sea filming, a storm throws him overboard and sinks the ship. But he's the protagonist, so he can't die, right? However, his rescuer is none other than a real merman, who tries to take Percy as his mate!
Last week, I mentioned that I was looking for a cover artist, but this week I felt super creative and decided to give it a go on my own. Mailing list subscribers got to see the concept I came up with and give their opinions. Why not subscribe now?

Check Me Out on Social Media!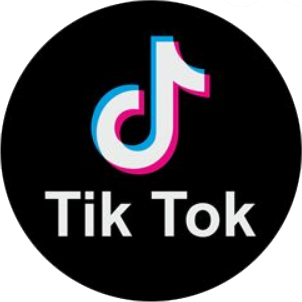 Like I said in the beginning of this email, I got a brand new Tiktok. The new link is in the graphics above, but you can also just go to https://tiktok.com/@spicygayromance and I'm trying to update at least once per day. So far I've only missed US Thanksgiving Day, so I'd say that's a pretty good track record for someone with ADHD haha. My tiktoks are blurbs, information, tropes, and scenes from my books, so I'd love it if you'd check them out, follow me, and like/reshare my vids to spread the word <3!
I'm sooo excited to announce that Practice Makes Perfect is officially available for everyone! It's 100% free on Kobo, Barnes & Noble, and Google, but currently $0.99 on Amazon. They say they're working on the price match, but we'll see. I've been having some trouble with them lately -_- I'll have to figure out something special to do for those who bought the book because it's supposed to be FREE! If you have any thoughts, please let me know!

Practice Makes Perfect has gotten sooooooo much love even before it was released! Check out these amazing reviews: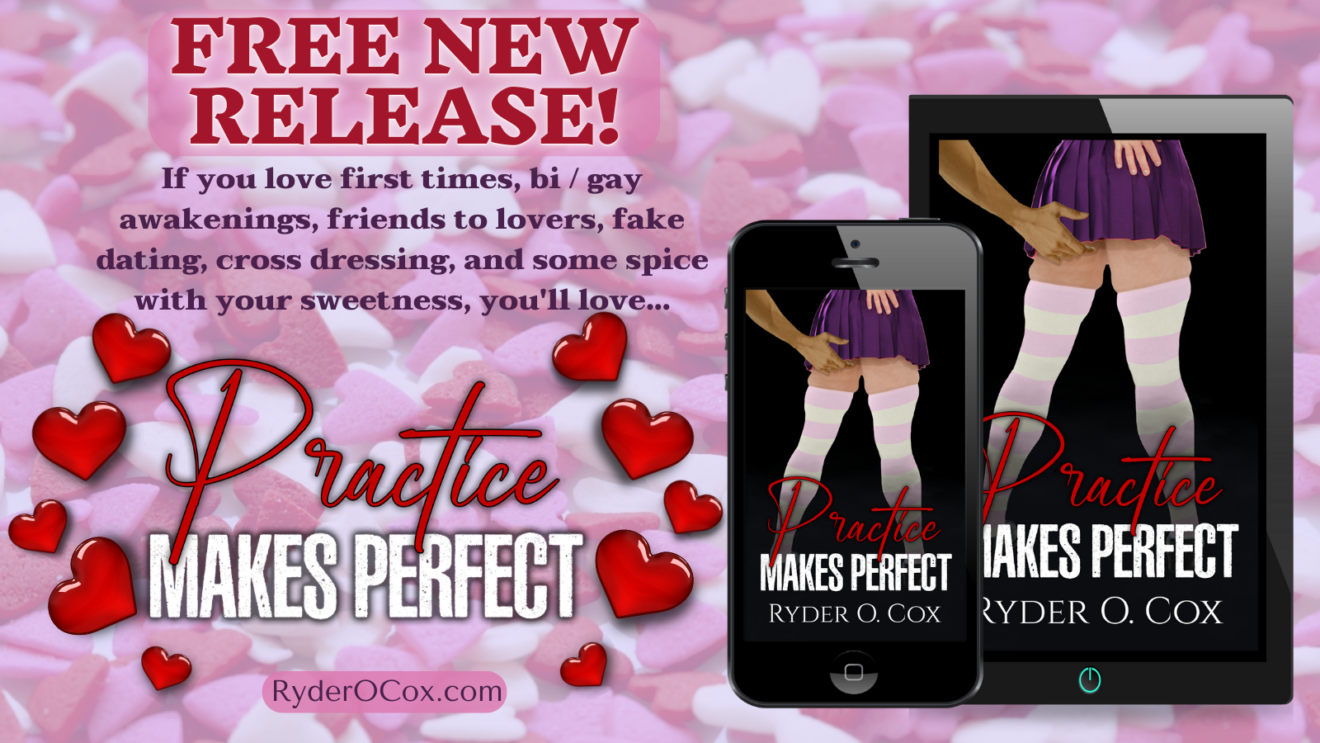 Quick synopsis of the book:
Sparks fly when best friends Mateo and Morgan decide to work together to get good at dating. They're two good-looking college guys, they just need a little practice.
Too bad they have no one to practice with but each other. Hey, at least Morgan looks cute in a skirt, right?
Getting dumped sucks, and nobody knows the truth of that statement more than Mateo and Morgan. They've been best friends for a couple years, but neither of them can keep a girlfriend for more than a couple months! Mateo hasn't even kissed a girl, let alone get past first base with one. So of course he turns to his bestie, Morgan, for help. And, after all, practice makes perfect, right..?