I hope your day is going better than mine… I know I usually only post blogs ponce a month now, but something came up that felt like it needed to be shared ASAP. And that 'something' is that Amazon is a bunch of assholes. We already knew this, of course, but right now it's affecting me and my fans. 
Basically, I was planning to send out an email on Wednesday about the rewrite of Discovery being released, but Amazon is giving me shit about it. It was already approved for pre-release, set to auto-release on Wednesday Mar 1. But I noticed a typo and I wanted to add the word 'gay' to the subtitle (just so anyone not interested in MM Romance doesn't read it and become disappointed). But upon doing that, Amazon told me that the content suddenly 'didn't meet their guidelines.'
So, unless Amazon is suddenly openly anti-LGBTQ+ (which wouldn't surprise me) then it was flagged in error. I've emailed them several times asking what was supposedly against their guidelines, and every time I've gotten a copy/pasted reply of "we reserve the rights to flag anything we want" along with a link to those guidelines. When I pointed out (after the third email) that all I had changed was adding  the word gay, they were suddenly happy to forward it to a different team. Fingers crossed that they'll approve it! But no promises, and it probably won't be available by the first. 
So what happens if they don't approve it? Well, that's what I've been thinking about. I wanted the story to be available for folks to read on Kindle Unlimited since I know that's simple, cheap, and convenient for most of you. However, if Amazon doesn't approve the book, then I can't do that. So I think what I may do instead is made this one a 'freebie' for mailing list subscribers only. That means that I'd send it to all of my subscribers and to anyone who joins the list as well. And even if they do approve it, I'm planning to write a short story to share with all my subscribers anyway because I love and appreciate the support you've all been showing me!

With all that out of the way, I guess I'll go ahead and share the rest of the information I was planning to post when Discovery was actually released. I'll probably send out another email and make an update to this blog next Wednesday just to keep you posted on what Amazon says. Please don't hesitate to leave a reply and let me know if you have any questions, suggestions, or just wanna talk about my cat-children. They love you already, I promise!

Please wait, don't scroll by😭
Just click the link, please~? It's a really easy and free way to help me out, so I'd super appreciate it if you'd just do me the teeny tiniest favor and give a little click? Plus, this month's theme is…
Dark, Kinky, & Taboo MM Romance!
I've added a new page to my site with all the reasons why this helps, as well as some other free and simple ways you can help me out, so if you're interested (which I hope you are!) then
please go check it out 
💕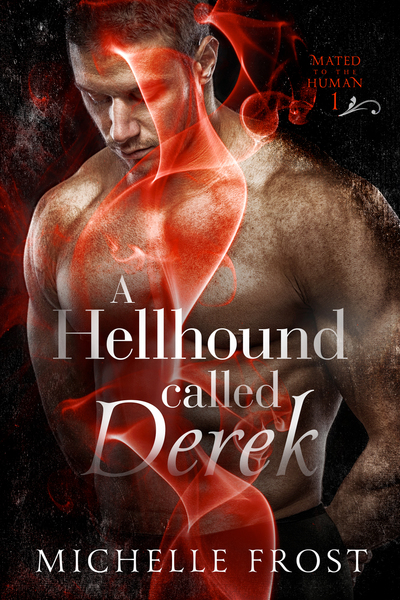 HUGE thanks if you clicked the link above, but this is something different! The author of the book above shared one of my books to their followers, so I'm  sharing one of theirs with you – simple, right?
Just like the promo above, Bookfunnel tracks how many clicks I send to this url and gives me a 'score' that other promoters can see and decide whether or not they want to work with me based on that, so please click it and check it out for me <3
Click here to read A Hellhound Called Derek by Michelle Frost free on KU!
Here's a quick synopsis: 
Touch his mate and you'll wish for the fires of hell.
Alpha of the Hellhound enforcers, Derek doesn't think he has time for a mate until the Paranormal Council of the city gives him one.
Hollis is smart, funny, vulnerable…human, and his police commissioner uncle has designs to use Hollis's new mating for his own ends.
He'll learn quickly not to mess with a hellhound's mate.
A Hellhound Called Derek is the first in this fast-paced novella series where the paranormals are all deliciously protective of their humans…no matter what type of trouble they get into.
Click here to read Say the Words by Christie Gordon free on KU!
Ok, that's it for promos. Thanks again for those who have been engaging with the links here, on social media, or on my site! As always, I'm totally open to other, less-invaisve (for you) ways to promote instead, so hit reply and lmk if you've got any!
The whole beta reading and editing process went by so quick that I never had a chance to share Discovery's new cover art. I'm super proud of it, but I'd love to know what you think. I feel like it more properly represents the book as a dark romance as well as being just better quality in general. It's still made by me, though, so I feel pretty good about that. What do you think?
And while we're talking about new covers….
Updated Cover WIP for Depths of Desire!
Jen and I are still plugging away at Depths of Desire, so I figured I'd share the updated cover image with my lovely followers! I'm still not 100% happy with it, so I'm still calling this a work in progress, but I'm loving it more and more with each new update. What do you think? Love it? Hate it? Excited for the book? Interested in joining the beta readers when it's time? Hit reply and let me know!
I got a question this week from a fan so I figured I'd answer it here in the 'about me' section. If you want to send me a question to answer, feel free to hit reply to this email, or if you want to send an anonymous question, you can use my NGL link – https://ngl.link/authorryderocox
Now for the question – What's Ryder's favorite TV Show? It's a pretty simple question, but do I ever give simple answers? LOL! I mean, I love so many, honestly. I'd say that one of my favorites is definitely Haunting of Hill House. I love horror, of course, but that one also made me cry. But in a good way – similar to one of my other favs, the anime Angel Beats. What are some of your favs? I'd love to hear them! Hit reply and let me know!
Sparks fly when best friends Mateo and Morgan decide to work together to get good at dating. They're two good-looking college guys, they just need a little practice.

Too bad they have no one to practice with but each other.

Hey, at least Morgan looks cute in a skirt, right?

Getting dumped sucks, and nobody knows the truth of that statement more than Mateo and Morgan. They've been best friends for a couple years, but neither of them can keep a girlfriend for more than a couple months! Mateo hasn't even kissed a girl, let alone get past first base with one. So of course he turns to his bestie, Morgan, for help. And, after all, practice makes perfect, right..?
Harris McGuire and Dalton Gardener are both assassins utilized by the mafia. Dalton is one of the highest professionals on the totem pole, known for his precision and planning, who works for the top crime family in the area. Harris, on the other hand, is a brutal yet efficient freelancer who various mafia outfits have been known to contract. The two assassins' paths cross on occasion and they enjoy a friendly rivalry, with Dalton teasing Harris for not 'settling down' to work with a single mafia family and Harris thinking that Dalton is the more stuck up and limited of the two due to the mafia's rules which he must follow to a T.
But one day, unbeknownst to each other, they both receive peculiar assignments – to kill the other assassin. Dalton's comes from his mafia boss, whereas Harris' is from a strange anonymous (but wealthy) client. The two men chase each other around the city attempting to complete their jobs, each using his own skill set to the best of his ability.
But when Harris corners Dalton in his home, it's not fighting that he has on his mind…
Bad: An asexual Catholic priest falls for the choir director at his church.
Worse: That choir director just happens to be an incubus in disguise.
For as long as he's been an adult, Father Nikolas has been a priest. He went from high school to seminary school and then found a flock to lead in a small suburb of London. He's never needed or wanted anything else, really. But when he finds his eyes lingering on the choir director long after everyone else has left, Niko begins to question everything.
Leviathan was cast out from Heaven and he chose to become an incubus, pursuing the pleasures of mankind instead of their torment. He sees Father Nikolas as just another meal, someone to play with, seduce, nourish himself with, and leave. But all that changes when he finds himself growing feelings for the priest.
Representation: trans main character (FtM), asexual main character, male homosexual main characters, POC main character
That's it for this week, but I'm still working on those ideas for how to make these newsletters more fun and engaging with things like giveaways and more ways to get involved in my life and my journey as an author. I'd like to grow my list to around twice what it is now before we do any of that, but if you've got something you'd like to see me do here, even share something you've made with everyone, let me know by replying to this email and I'll do my best to make it happen!