Who is Ryder O. Cox?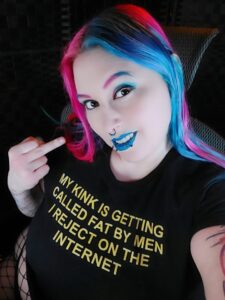 Ryder doesn't exist. Well, she didn't, anyway, until some time in early 2022 when I decided to make my silly smut into something more. The person behind Ryder is me – just a silly, pansexual, polyamorous, demisexual, nonbinary creature who enjoys telling sexy stories with and for my friends. I live with my partner in Ann Arbor, Michigan along with our three cats (and beloved overlords).
Why do you write such terrible things in your erotic fiction?
So here's the thing – everyone has kinks. Everyone has fantasies, some of which are taboo. Everyone has traumas. The world is not safe or friendly, and sometimes bad things happen to people. I write about darker things because not only are they real, but sometimes the thought of one partner threatening the other with a knife or a couple finding a third locked away in a hidden basement cell can be hot. And for those who have been in similar situations, reading or writing about such things can be cathartic and a safe way to work through those experiences.
Basically, when it comes down to it, what I write is fantasy. And I bet that, deep down, everyone has a fantasy or two that's something that they enjoy thinking about but wouldn't ever want to act out in real life. Do I think that these things are good or healthy or in any way something that should be done in the real world? Absolutely not. I mean, hey, some people are into knife play, but that's a whole separate matter. So my romance novels are fiction, and they do not depict what I think the world should look like, what I think a healthy relationship is, what I want to have happen to me or my friends or family members in their relationships, etc. Read them and enjoy them, or if you don't, don't. I try to make sure to put content warnings for everything I can think of, but if I miss something, you can always let me know!